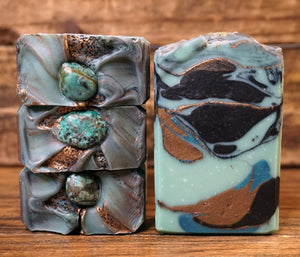 Ready to take your higher self to another level? Then you should consider this beautiful handcrafted soap. The African turquoise stone is really not turquoise at all. It's actually a form of Jasper that is mined in Africa and treated to give it that rich blue-green color we all know and love about the traditional turquoise which is the birthstone for the month of December. It's the "Stone of Evolution" giving the wearer the ability to change from within to become their true self. It's a stone that helps to open up your Third-Eye Chakra and pushes you to use knowledge that you already possess. It awakens our spiritual selves to their intended highest purpose. Scented with soft notes of violet leaves, bergamot, sage, haitian vetiver and amber. A clean refreshing scent you will admire. 
Made with natural butters and oils to keep your skin looking its best. Our handmade soap provides great lather and moisture that our body needs to thrive. 
Each bar of soap will come with a tumbled African turquoise stone on top.

Good for Face & Body
I highly recommend using a soap dish that drains water to extend the life of the soap 
**All our soaps are hand cut and color variations in appearance is possible**
Weight: 4 oz
Ingredients: Olive Oil (Extra Virgin), Coconut Oil (Virgin), Distilled Water, Shea Butter (Unrefined), Sodium Hydroxide (Lye), Fragrance (Phthalate and Paraben Free), Cocoa Butter (Unrefined), Castor Oil (Organic), Sodium Lactate, Mica, African Turquoise Stone
For All Skin Types
Cruelty-Free
Vegan Friendly
Palm-Free
Soy-Free