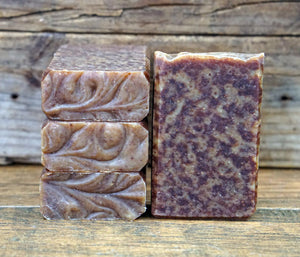 Our Sea Moss Soap is a natural wonder packed with skin-loving ingredients. At the heart of the soap lies the sea moss, which is loaded with sulfur that has natural antimicrobial properties to soothe inflammation. The mineral-rich sea moss also nourishes and softens the skin, while vitamin K promotes elasticity and minimizes the appearance of fine lines and dark circles. Vitamins A, B, C, and D work together to enhance the skin's natural moisture barrier and guard against environmental stressors. Sea moss is also known for its ability to alleviate skin conditions such as eczema and psoriasis.
In addition to sea moss, we've included rose hip powder that stimulates collagen production, protects against sun damage, and diminishes hyperpigmentation. It works in harmony with sea moss to deliver deep hydration and moisture to the skin.
To enhance the incredible benefits, we've included a blend of Bergamot and Geranium essential oils. This uplifting pairing offers a refreshing citrusy aroma with floral undertones and aids in skin rejuvenation, while also minimizing the signs of aging.
Our handmade soap is crafted with natural butters and oils to create a luxurious lather that leaves your skin feeling soft and smooth. Experience the benefits of our Sea Moss Soap!
Good for Face & Body
I highly recommend using a soap dish that drains water to extend the life of the soap 
**All our soaps are hand cut and color variations in appearance is possible**
Weight: 4 oz
Ingredients: Olive Oil (Extra Virgin), Coconut Oil (Virgin), Distilled Water, Shea Butter (Unrefined), Sodium Hydroxide (Lye), Sea Moss, Cocoa Butter (Unrefined), Castor Oil (Organic), Bergamot Essential Oil, Geranium Essential Oil, Rose Hip Powder, Sodium Lactate
For All Skin Types
Cruelty-Free
Vegan Friendly
Palm-Free
Soy-Free