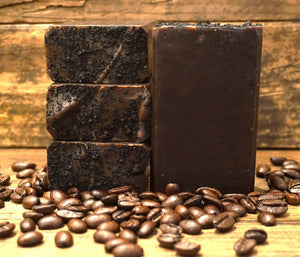 Kafe Nwa Soap is a coffee-infused soap that will revitalize your shower routine. Inspired by the morning coffee ritual of my parents and the numerous skin benefits of coffee, I crafted this soap with passion and care. This soap is made with sustainably sourced coffee beans from Haiti, lending a rich coffee aroma and powerful skin-loving properties.
The coffee in Kafe Nwa acts as an exfoliant, sloughing off dead skin cells and boosting circulation. The caffeine in coffee also has skin-tightening and anti-inflammatory effects, making it ideal for those looking to improve their skin's appearance. In addition to coffee, Kafe Nwa is enriched with Haitian Castor Oil (Lwil Maskriti), adding extra hydration to the skin, leaving it soft and supple.
Our soap is crafted with natural butters and oils, creating a luxurious lather that will cleanse and moisturize your skin. Its warm, comforting scent of freshly brewed coffee and dark cocoa will envelop you in a sensory delight. Kafe Nwa is the perfect treat for coffee lovers who want to bring a touch of their morning ritual into their shower. Try it today and experience the indulgent, rejuvenating power of coffee on your skin.
Good for Face & Body
I highly recommend using a soap dish that drains water to extend the life of the soap
**All our soaps are hand cut and color variations in appearance is possible**
Weight: 4 oz
Ingredients: Olive Oil (Extra Virgin), Coconut Oil (Virgin), Distilled Water, Shea Butter (Unrefined), Sodium Hydroxide (Lye), Fragrance (Phthalate and Paraben Free), Cocoa Butter (Unrefined), Lwil Maskriti (Unrefined Haitian Castor Oil), Haitian Coffee Beans, Sodium Lactate
For All Skin Types
Cruelty-Free
Vegan Friendly
Palm-Free
Soy-Free