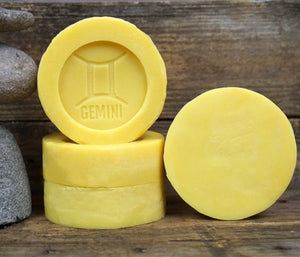 Gemini is a zodiac sign known for its duality in personality, marked by the ability to shift moods and thoughts at a moment's notice. They are highly adaptable, with a natural talent for problem-solving, making them quick-witted and optimistic.
Our Gemini soap is infused with a blend of Bergamot essential oil, which amplifies their mental agility and facilitates better communication with others. The addition of Grapefruit scent balances mood and reduces stress, leaving you feeling refreshed and rejuvenated.
Our soap is crafted using only the finest natural butters and oils, ensuring that your skin stays healthy and nourished. This lovely soap creates a rich lather, providing the hydration your skin needs to glow.
Good for Face & Body
I highly recommend using a soap that drains water to extend the life of the soap 
**All our soaps are hand cut and color variations in appearance is possible**
Weight: 4 oz
Ingredients: Olive Oil (Extra Virgin), Coconut Oil (Virgin), Distilled Water, Shea Butter (Unrefined), Sodium Hydroxide (Lye), Cocoa Butter (Unrefined), Castor Oil (Organic), Bergamot Essential Oil, Grapefruit Essential Oil, Sodium Lactate, Mica
For All Skin Types
Cruelty-Free
Vegan Friendly
Palm-Free
Soy-Free