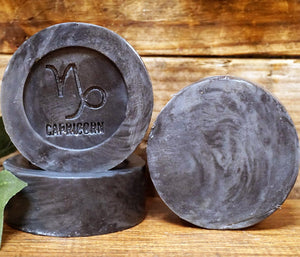 Introducing the Capricorn Soap, specially crafted for those born under the sign of the Sea Goat. This bar is a celebration of the hardworking and practical nature of Capricorns. Its scent, made up of a blend of Patchouli, Eucalyptus, Sandalwood, and Chamomile, provides a calming and rejuvenating experience, perfect for relieving the mental exhaustion that often comes with a full day's work.
Made with all-natural ingredients, this soap offers a gentle and nourishing cleanse for the skin, keeping it healthy and refreshed. The scent and ingredients in this bar were carefully selected to align with the Capricorn's earthy and grounded personality.
Indulge in a luxurious shower or bath experience and take a moment to relax and unwind. Show off your zodiac pride and embrace the hardworking spirit of a Capricorn with this special soap.
 Good for Face & Body
I highly recommend using a soap dish that drains water to extend the life of the soap 
**All our soaps are hand cut and color variations in appearance is possible**
Weight:  4 oz
Ingredients: Olive Oil (Extra Virgin), Coconut Oil (Virgin), Distilled Water, Shea Butter (Unrefined), Sodium Hydroxide (Lye), Cocoa Butter (Unrefined), Castor Oil (Organic), Patchouli Essential Oil, Eucalyptus Essential Oil, Sodium Lactate, Mica, Activated Charcoal, Sandalwood Essential Oil, Chamomile Essential Oil
For All Skin Types
Cruelty-Free
Vegan Friendly
Palm-Free
Soy-Free