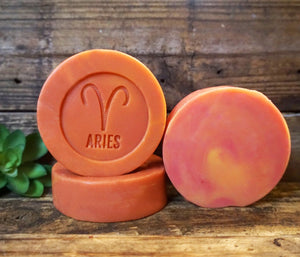 Our Aries Soap is the perfect pick for those who embody the fearless, energetic and dynamic spirit of the Aries zodiac sign. The blend of essential oils in this soap is meticulously crafted to cater to your inner Aries while nourishing and revitalizing your skin, giving you a fresh and invigorating start to your day.
The Rosemary oil works to stimulate and revitalize the skin. Lemon oil, known for its traditional use in toning and brightening, helps to improve the appearance of the skin. Litsea oil has a soothing and calming effect, while Grapefruit oil adds a refreshing burst of energy.
The soap's vibrant orange and red coloring is inspired by the fiery nature of Aries, making it a bold and eye-catching addition to any bathroom. Its unique scent will awaken your senses and leave you feeling ready to conquer any challenge that comes your way, just like the confident and charismatic Aries. So, whether you're an Aries yourself or simply looking for a soap that embodies the energy and spirit of the sign, this soap is a must-try!
Good for Face & Body
I highly recommend using a soap that drains water to extend the life of the soap 
**All our soaps are hand cut and color variations in appearance is possible**
Weight: 4 oz
Ingredients: Olive Oil (Extra Virgin), Coconut Oil (Virgin), Distilled Water, Shea Butter (Unrefined), Sodium Hydroxide (Lye), Cocoa Butter (Unrefined), Castor Oil (Organic), Rosemary Essential Oil, Lemon Essential Oil, Litsea Essential Oil, Grapefruit Essential Oil, Sodium Lactate, Mica
For All Skin Types
Cruelty-Free
Vegan Friendly
Palm-Free
Soy-Free