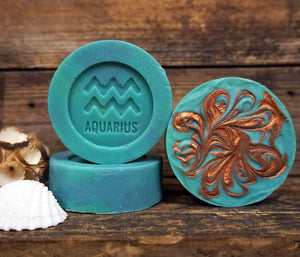 Scented with the invigorating blend of Ylang Ylang, Lemon, Peppermint, and Eucalyptus, this Aquarius soap bar is perfect for those looking for a fresh start each day. The crisp and bright aroma of the essential oils will awaken your senses, while the natural ingredients will nourish and rejuvenate your skin.
The soap bar is a celebration of the innovative and free-spirited nature of Aquarians, who are known for their creative, thoughtful, dependable, and sometimes eccentric personalities. The unique blend of essential oils and natural ingredients is perfect for those with liberal viewpoints who want to embrace their individuality and make a statement with their daily self-care routine.
So, go ahead and indulge in the benefits of this Aquarius soap bar, and experience the spa-like indulgence that comes with each use. Whether you are an Aquarius or simply admire their creative spirit, this soap bar is the perfect addition to your daily routine.
Good for Face & Body
I highly recommend using a soap that drains water to extend the life of the soap 
**All our soaps are hand cut and color variations in appearance is possible**
Weight: 4 oz
Ingredients: Olive Oil (Extra Virgin), Coconut Oil (Virgin), Distilled Water, Shea Butter (Unrefined), Sodium Hydroxide (Lye), Cocoa Butter (Unrefined), Castor Oil (Organic), Ylang Ylang Essential Oil, Lemon Essential Oil, Peppermint Essential Oil, Eucalyptus Essential Oil, Sodium Lactate, Mica
For All Skin Types
Cruelty-Free
Vegan Friendly
Palm-Free
Soy-Free