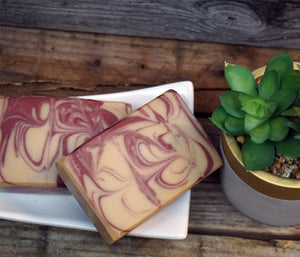 Indulge in the luxurious wonderland soap enriched with natural emollient acai butter, which offers intense hydration to your skin. This exquisite ingredient is packed with essential fatty acids like Omega 3, Omega 6, and Omega 9, along with Vitamins B1, B2, B3, E, and C, all of which aid in restoring skin elasticity, nourishing and repairing the skin. Additionally, the antioxidants present in acai butter works repeatedly to eliminate harmful free radicals, bringing balance to your skin's health.
Our handmade moisturizing bar is blended with a rich array of oils and butters that leave your skin feeling velvety smooth and free from dryness, setting it apart from regular store-bought soaps. This bar is designed to cleanse, moisturize, and revive your skin, leaving it glowing and radiant. The abundant lather of our soap works wonders for your skin's health, leaving it soft and supple.
Enjoy the refreshing and delightful fragrance of tangerine, juicy peach, lemon drop, and cotton candy. The scent evokes feelings of wonderland, and you'll carry it with you wherever you go. Try our wonderland soap today and give your skin the care it deserves!
Good for Face & Body
I highly recommend using a soap dish that drains water to extend the life of the soap 
**All our soaps are hand cut and color variations in appearance is possible**
Weight: 4 oz 
Ingredients: Olive Oil (Extra Virgin), Distilled Water, Sodium Hydroxide (Lye), Acai Butter, Shea Butter, Avocado Oil (Unrefined), Coconut Oil (Virgin), Sweet Almond Oil, Fragrance (Phthalate and Paraben Free), Iron Oxide
For all skin-types
Cruelty-Free
Vegan Friendly
Soy-Free